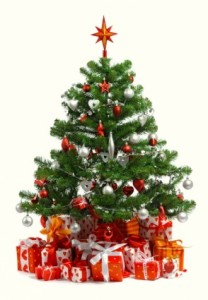 OK, so we are now part way through November which in my view means it is officially OK to talk about Christmas. I always feel like Christmas seems a long way off and then time flies by and suddenly people are telling me they have completed all of their Christmas shopping when I have barely started mine! An added consideration to my Christmas preparations this year is the environmental perspective.
I believe the eco mantra is reduce/reuse/recycle. So with this in mind, here are my thoughts so far on how to have a Green(er) Christmas:
 Wrapping presents
100% Recycled wrapping paper from the local Oxfam charity shop – £2.99 per roll
Recycled tissue paper and recycled ribbon:
http://www.ethicalkidz.co.uk/shop/kids-parties/party-wares/100-recycled-tissue-paper-purple? 
I have also bought some fair trade organic cotton offcuts which my partner (who is quite handy with a sewing machine) has made into drawstring bags of various sizes so we are going to put some of our presents in these and then reuse the bags each year.
Christmas trees
Friends of the Earth have a guide to environmentally friendly Christmas trees:
http://www.foe.co.uk/living/articles/25-eco-friendly-christmas-tips
If you already have an artificial tree, the recommendation is to get as much use out of this as possible. In terms of real trees, the advice is to get one from a sustainable source that is locally grown and if it is a cut tree then look into your local council's provision for recycling them afterwards so they don't end up in landfill. Another option is a tree in a pot which you just bring in for Christmas each year but these apparently do take a little bit of looking after.
I do love real trees and we usually have a cut one so we will have to have a think about what to do this year. We also have an artificial one so we need to have a rethink on whether we really need two trees…
I am also going to try to find some other options for decorating the house such as holly, fallen branches and pine cones from the local woods.
Christmas lights
I have read that using LED Christmas lights and putting them on a timer is a good way to save energy and reduce their environmental impact. They are also supposed to be safer as they don't produce as much heat as traditional lights. You can even get solar powered LED fairy lights:
http://www.nigelsecostore.com/led-lights/decorative-and-outdoor/led-fairy-lights/solar-fairy-lights.html
Decorations
I was at the garden centre a while back and they had some beautiful decorations. There were angels and fairies and I was so tempted to buy one (my daughter loves fairies) but I decided that we really didn't need yet another Christmas decoration which is made of plastic and manufactured abroad (potentially in the absence of fair pay and decent working conditions).
I have been looking for eco-friendly decorations instead and have come up with the following:
Home-made paper-chains made from old magazines – I haven't tested this yet but I am hoping it will keep my daughter occupied for at least half an hour!
https://www.nationaltrust.org.uk/lists/christmas-crafts-how-to-guides
Or you can buy paper chains made of recycled paper:
http://www.foeshop.co.uk/3-packs-of-paper-chains.html
These edible stained glass cookie decorations look amazing and I am definitely going to try them out:
http://www.simplyrecipes.com/recipes/stained_glass_cookies/
These little Christmas trees made from sticks look brilliant but I am not sure I am handy enough with a drill to attempt this one!
http://www.michelemademe.com/2011/07/twiggy-christmas-trees-in-july.html
Baked slices of orange are also a really simple tree decoration:
http://www.bbcgoodfood.com/howto/guide/how-make-fruity-christmas-tree-decorations
 Presents
As I get presents this year, I am thinking more carefully about what I buy, what it is made from and where I buy it from. This does present an extra challenge because in these times of online shopping, the array of choice on offer is vast, however, as soon as you start to apply criteria such as fair trade, made from recycled/sustainable materials, locally sourced etc the amount of choice shrinks rapidly. A good example of this would be that when I asked my daughter what she would like for Christmas this year she requested a purple owl. The internet has provided me with lots of options for purple owl soft toys but I haven't found any so far that claim to be fair trade or made from sustainable materials.
Toys
I have found some great websites for wooden/recycled plastic toys such as:
http://www.babipur.co.uk/natural-wooden-toys.html
John Lewis stock a few items from a US brand called 'Green toys' which are made from 100% recycled plastic such as this dumper truck:
http://www.johnlewis.com/green-toys-dumper-truck-red-yellow/p1571316
Toiletries
I quite often buy nice toiletries as stocking fillers/presents for people at Christmas. This year I am opting for more environmentally friendly products.
Aveda say on their website that they aim to use naturally derived ingredients which are ethically sourced. They also use packaging made from recycled materials:
http://www.aveda.co.uk/discover/index.tmpl#section=ingredients
Faith in Nature have a good range of products too which also come in recycled packaging:
https://www.faithinnature.co.uk/
Socks & Clothes
It is a family tradition in our household to exchange silly socks at Christmas. This year I have found a variety of socks which say they are more environmentally friendly, some made from recycled materials, some from organic materials and some from bamboo. A lot of these companies also sell clothing.
BAM:
Braintree clothing:
http://www.braintreeclothing.com
Seasalt Cornwall have a collection of organic clothes, socks etc:
https://www.seasaltcornwall.co.uk
Chocolate
I also tend to buy chocolate as a Christmas treat. Divine chocolate is fairtrade and 44% owned by the farmers (and tastes good!)
http://www.traidcraftshop.co.uk/c-973-divine-chocolate.aspx
Christmas cards
I have decided not to buy new Christmas cards this year. We have a few left over from previous years so I will start using these up. I am also contemplating ecards. I have found quite a few websites offering ecards for free although I haven't tested them out yet. You can even add your own family photo to personalise them.
https://www.paperlesspost.com/cards/category/holiday_greetings_christmas
https://www.foe.co.uk/living/cards
Summing up
One of the biggest things I am finding with all of this is that being green can be more expensive. I used to buy a multipack of wrapping paper from the supermarket for £2.99 which had 3 rolls of paper in it and now I am spending £2.99 on one roll of recycled paper. I am therefore thinking more carefully about what I buy in the first place. On the other hand, there are some things that will save money in the long term too such as using the cloth bags instead of wrapping presents in paper as we can reuse the bags for years and years. Natural decorations for the house such as holly are also free!
Another issue is that whilst I am quite happy to give up things myself, I find it harder to restrict what I make available to my kids. If they have their heart set on a plastic toy which is not recycled or fairtrade, should I say no? I think the answer is to try to find green/ethical alternatives and to buy these where they are available. The more consumer demand there is for green/fairtrade products, the more the range of products will expand, leading to more choice. This will then reduce the need for me to feel guilty when I buy my daughter 'my little pony' socks which aren't made from organic cotton!
Going back to the eco mantra of reduce/reuse/recycle, I am working on reducing what I buy at Christmas. This is involving a fair degree of restraint on my part when it comes to buying random novelty items that are amusing but don't really serve any purpose (crackers being an excellent example of this). It is hard as there are lots of tempting things out there to buy and Christmas (perhaps wrongly) does tend to be a time of excess. I do believe we can still have a really amazing Christmas this year whilst being a bit greener.
So, after all of my research and internet browsing, am I ready for a green Christmas? I think 'ready' would be overstating things somewhat, I still have presents to buy and decorations to make but I do now have some ideas on how to make Christmas a bit more environmentally friendly. I think the creative projects such as making our own decorations will really add to the fun.
Only 30 sleeps to go…