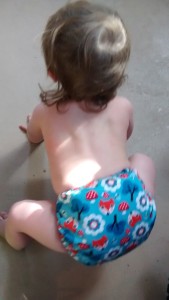 Okay, so I am now the proud owner of a whole set of cloth nappies. We are using the all-in-one cloth nappy where the inner and outer parts are integrated and you use a thin disposable liner inside. As an added bonus, they have pretty patterns on them. The pictures have absolutely no benefit to the environment whatsoever but they do make my daughter look particularly cute!
The practicalities
So far, the cloth nappies have been fine for use during the day but we have had some leaks at night even when using them with an extra booster pad. After several nights in a row of soggy baby and bedding we have reverted to putting a disposable nappy on at night time and using the cloth nappies during the day. This probably isn't ideal for the environment but on the other hand the energy and water required to keep washing the bedding when the nappy leaks probably isn't good for the environment either.
The cloth nappies are easy to use although there is definitely more washing to do. This isn't proving to be too much of an issue at the moment while the weather is warm (ish) as we can often line dry the nappies in the garden.
On the down side, I did a long car journey the other day and had the windows open most of the way home because there was a particularly smelly nappy in the boot which I had to bring home for washing where in the past with a disposable nappy I could have put it in the bin. Apparently you can get a purpose-made bag to put the dirty nappies in which can go in the washing machine too and this prevents the smelly-nappy-in-car situation. This definitely sounds like a good idea!
On the plus side, we usually end up with a full to overflowing rubbish bin by the time it is due for two-weekly collection so I think we will see a big benefit here. This does act as a very visual reminder of the sheer volume of nappies we are sending to landfill too.
Cost
Cloth nappies do require quite a big upfront investment – it was a little over £200 to buy 18 nappies. However, we should save quite a lot on our weekly shop now we won't need to buy loads of disposable nappies. Over a two and a half year period ,cloth nappies are estimated to save approx. £500 when compared with disposable nappies. However, if the cloth nappies are tumble dried then this does apparently increase the cost of using them.
Impact on the environment
About 8 million nappies are thrown away every day in the UK and these take hundreds of years to decompose. I genuinely struggle to get my head around those numbers… £8 million nappies a day… that is a truly scary amount!
In 2008, The Environment Agency published a report looking at the relative environmental impact of cloth and disposable nappies. They calculated that using disposable nappies would create approx. 550kg of carbon emissions over a two and a half year period. The same report calculated that cloth nappies would produce carbon emissions of 570kg over the same period if the nappies were washed at 60 degrees C (recommended by the Department of Health) and three out of four loads were dried on the washing line with the fourth load tumble dried.
I was really surprised by these figures as I assumed the cloth nappies would be much better for the environment than the disposable ones. I don't know exactly how the figure is calculated and therefore to what extent it factors in the impact of nappies going to landfill.
There are also ways to further reduce the carbon emissions of cloth nappies such as washing nappies on a fuller load, using an energy-efficient washing machine and line drying rather than using the tumble dryer. If the nappies are used on a second child then the carbon emissions are significantly reduced too.  
The verdict
I am going to continue with the cloth nappies and batch them up for washing and line dry them to minimise the carbon emissions. The extra washing does create a bit more work but this isn't a big issue. From a practical perspective, I am not quite sure how we will dry them in winter so we will have to wait and see what works best. My daughter seems quite happy in either type of nappy and (as previously mentioned) they do look rather cute on her. This really shouldn't matter but when it comes to cuteness and babies sometimes I just can't help myself! So greener and cuter… definitely a change worth making.
The various facts and figures above are from babycentre.co.uk 
http://www.babycentre.co.uk/a559767/buying-reusable-nappies